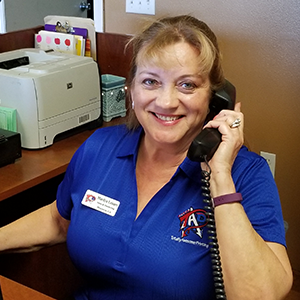 Marilyn joined the TAP Team in February 2019 and immediate made and impact on the team, customers and company. Her attention to detail and ability to streamline processes to make thing run easier and more efficiently is unmatched. Marilyn will most likely be the first friendly voice you will hear on the phone and the first bright smile you will see when you visit our shop. She loves working with customers and making sure they have the best TAP Experience that they can possibly have.
Marilyn has a big heart not only for our customers, but for this wonderful community as well. She is very involved in many different aspects of community events. She is a member and Immediate Past President of the Kiwanis Of The Colorado River (Noon Club), where she lead the club to it's first "Distinguished Status" in years by ending her term with a net growth of 8 new members. During her term as Club President, she brought back the Cornfest, supervised and/or coordinated an Easter Egg Hunt, Wine & Jazz Festival, Trunk Or Treat, the Laughlin Marathon and 5K, Parkway Clean-up and so many more events and contributions to the community and the youth. Her love for the community and the youth is ever-so present in her positive and caring personality.
When Marilyn is not at TAP or working to build a better community, she spends time with her loving family. She also loves watching movies, boating, bowling, going to church, and relaxing.