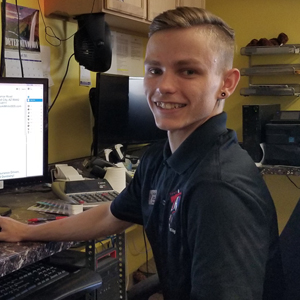 Kurt joined the TAP in August of 2017. He came to Tri-State area to visit a friend, came in to help out at TAP, and relocated to the area from Phoenix and joined our team. He hasn't looked back since. He has embraced the TAP Team and the community and they have embraced him as well.
His attention to detail and ability to learn things quickly has advanced him in the company. After 9 months of running the machine, Kurt learned the apparel department, retail center, invoicing and so much more. He helps out where ever he is needed and has earned the respect of the TAP Team. He is now the manager of the embroidery department, and oversees the trophy and heat press division as well. He also helps out in the retail center and assists customers with their orders.
He helps out with the Bullhead Business Builders. He also helps out the Kiwanis Of The Colorado River, volunteering with the auctions and other events. He was the Co-Chairman of the ScareZone for the 2018 CornFest. He was excited to set up what will was the largest haunted house in the Tri-State Area and is looking forward to doing it again this year.
When he is not at TAP, he enjoys visiting his friends and family, going to the river and lake, working out, riding jet skis and watching netflix, (and South Park, lots and lots of South Park)